Home Decor
Decorate for the Holidays
Themes, schemes, and decorating inspirations for your home. Nothing brightens up the mood like entering a room that is made festive with colors and motifs of the season. From special candles and home scents to garlands and baubles, decide on your style and bring a special touch to the decor with these ideas for the holiday home.
See these articles:
Theme your home and tree as if you were at the beach house. Maybe you are at the beach and want to decorate in a festive way for the holidays. Here is your inspiration.
Get Away From The Hustle, Have A Christmas At The Beachhouse

You may have a coastal home, you may not- but you can decorate as though you lived at the beach! This Christmas a beachy theme could be the perfect one for those who live where tropical warmth in December gives reason for a new type of tradition. It is cooling and festive, and relaxed.
Not everyone is dreaming of a White Christmas, at least not the type that is cold and comes from the North. Think about pastels, natural look décor in whites, raffia brown, and seashell pink, now you have an inkling of the charm of a Christmas at the Beach.
You may not be able to actually go to the beach, but you can bring all that sense of relaxed casual fun into your holiday decorating.
Bring some of the casual comfort of the Beach House and its color scheme into your celebration of Christmas.
Decorate the tree with shells, bedeck the halls with pink poinsettias and paperwhites, use your imagination to create a wonderful Christmas in the fresh look of a seaside cottage.
Give gifts with a coastal theme, decorate like you are at the Beach House- have lots of jolly good fun.
Beach Theme Christmas + Easy Craft Projects - A natural pairing of seashells, ornaments, and ribbon
 You can make hostess gifts for anyone with a love for the beach, create décor for your own home as well. many craft ideas for Christmas are ideal for a Beach themed wedding, too. Have you seen those glass balls that are used for craft project? Yes? They seem made just for filling with a bit of decorative sand and little objects that tell stories about beach vacations, the sea, and all the pretty collected objects found when beach combing. Small shells, bits of beach glass, starfish- storebought or created as crafts, tied with raffia and satin ribbon in theme colors.
70mm Clear Plastic Acrylic Fillable Ball Ornament
Double Face Satin Ribbon 1/4 inch
Tiny Mix Seashells
Brown sugar starfish can be used to decorate candles,tables, as gift ornament,tied onto presents, scattered around a wreath- there are so many uses to give something a touch of the sand and sea. Glue ribbon or raffia to your shells with a glue gun, dot with a pearl decoration, if desired.
Starfish as Christmas Stars
Glue scallop shells neatly around the base of your candles, or tie on one of your brown sugar starfish.
Seashell Christmas Ornaments and Beach Motifs
 Beachy Christmas Ornaments to Make
Creative Coastal Ideas
Cone shaped and trimmed boxwoods or rosemary trees in your window, wreath and garlands of strung seashells, pastel and relaxing colors keep a Coastal Beach theme, but catering to your yearning for a holiday that is merry and bright.
A tropical Norfolk pine, done up in Christmas time finery, accents of pots of paperwhites and amaryllis, it can be both a traditional Christmas and beach house casual and comfy atmosphere at the same time.
Color Schemes? Substitute Coral for Christmas Red, Bay Leaf wreaths for Fir and Pine, and lots of soft white everywhere.
Lime green and lemon yellow, Sea blue and sugar sand, just use the merry time of Christmas to brighten everything up just a notch or two.
Patricia Breen Christmas Ornaments  If you don't have time to make them, plenty of purchased ornaments can have a "homemade" look ( in the best sense of the phrase).  Buy Now
Coastal Holiday Ideas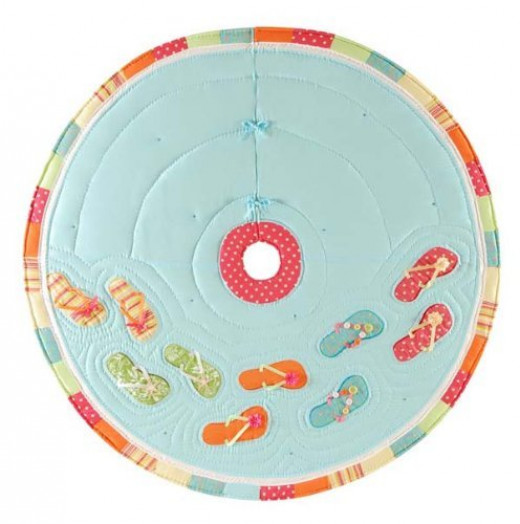 Under your tree, spread the look of a walk on the beach.
Flip Flops on the Beach Quilted Christmas Tree Skirt
A tropical themed Christmas is an idea that appeals to plenty of people- and the tree skirt proves it. I was recently in a Hobby Lobby store, and next to Christmas displays were many beach house décor items. It doesn't take much imagination to combine the two for a holiday look that carries through the year- especially for those of us who love the lap of ocean water on a sandy shore.
Flip flops mean fun and their colorful shapes create really cute accessories. I love fabrics with patterns borrowed from a row on the porch. That is the exact feeling a Christmas tree skirt gives, and you don't have to buy one, either. Striped fabric with appliques of easy to cut out flip flop shapes make a project to use up some extra remnants of material.
It's a Fine Holiday At The Beach
Coastal Maryland Blue Crab Ceramic Christmas Holiday Ornament Maryland crabs bring happy summer memories to a beach themed Christmas tree  Buy Now
Creative Holiday Decorating
 A unique idea for Advent Christmas countdown- attach numbers for each day to a pretty piece of driftwood.
Beach Garland
Light up your patio!
Christmas Lights Luau Style! - Let the lights shine with festive flair
Express Plastic Flip Flop Party String Lights Use these lights to bring some aloha to your porch for Christmas lighting. Colorful pastel flip flop lights strung along a wire.
Coastal Seaside Treat - Gifts for Beach Lovers
Just Right for a Beach Lover
It isn't hard to create gift collections for those who love the beach, juat put together gift baskets with scents and memories of your favorite seaside resort. A fragranced candle, customized flipflops, seashell themed ornaments or tea towels, Just let your imagination fly.
Details

Hits: 239
Once the hub of the home, fireplaces are now largely decorative. And while many modern fireplace walls are without them, a mantel is a traditional architectural focal point of a room. They provide a wonderful opportunity for festive Christmas decorations. 
It is a way to introduce a unique theme and color to your holiday décor.
Mantle Scarves 
Made to dress up the fireplace mantle, they can also be used for any long surface, including shelves, entertainment centers, and for deep window sills, so think about tying together a room with more than one.
Mantle scarves come in many styles including my favorite white, lace-trimmed traditional.
white lace
quilted
green, red, or other hued velvet
embroidered, and with fringes
Lacey Winter Scene Mantel Scarf
Vignettes
A fun idea for the top of the mantle is to create a Christmas, or winter theme, vignette. Your imagination can run wild with this! Beautiful woodland motif with pine branches, reindeer statues or candle holders, woodland animal ornaments, and pine cones is an idea that brings forest creatures into the front room. 
Christmas villages are ideal to display along the length of the shelf. Collections of candles are favorites, and any collection will lend itself to a mantle:
Snowmen
Santas
Angels
Teddy bears
Old toys: blocks, cars, etc.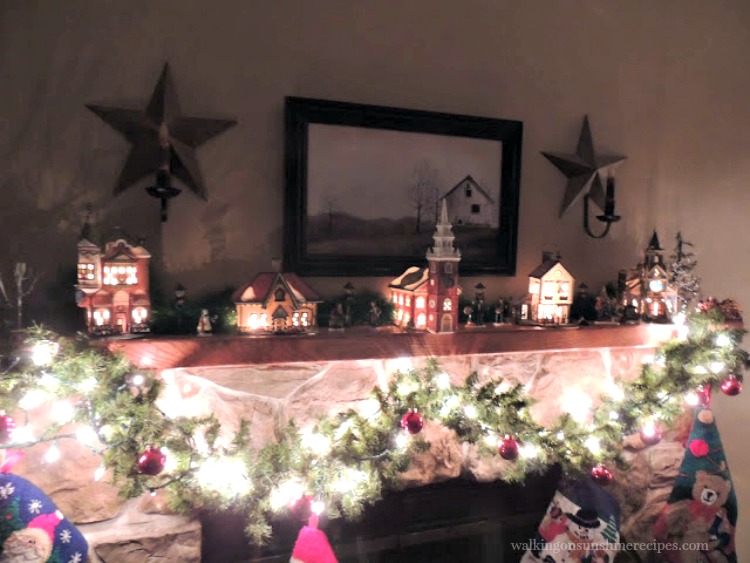 Wreaths and Topiaries
Formal and symmetrical, a wreath flanked with matching topiary is perfect for a Williamsburg look. It is also easy to do yourself! Forms are available and can be decked with false evergreen sprigs or real and pinned with red velvet bows for a festive look. Or buy one of many ready-made items from hobby stores and floral departments.
Flowers, Garlands, Ornaments
Popular because it is so easy to do, combining a garland with pots of flowers and dotting with colorful Christmas ball ornaments makes a color coordinated look that is inexpensive and full looking.
Be sure to add plenty of the colorful bows in rich grosgrain or velvet. Rustic and country? Try grapevine balls and burlap bows along with the glass in colors that match the tree theme.
Stockings Of Course!
The custom for many families are the Christmas stockings, that come in many colors, are often personalized and hung on decorative hooks. Plenty of room for crafting and making this a focus of the family's yearly ritual.
 One Idea
Matching stocking in the snowman theme.
Coordinating Christmas Stockings Buy on Amazon
More Ideas

From Stone Gable Blog
Cute idea from "Growing Up Gardner":
Make a sign, add lights- magicalAdd a sign that you make displaying your faith, your Christmas message. Amanda also has a page of instructions on making a stenciled wooden sign that will guide you to DIY.
This could be done in different colors, but the minimal theme of white, and silver with only the tan and green background makes for a very elegant look, don't you think?
Even More
Details

Hits: 6192
 Festive Room Décor
A Themed Tree - Gingerbread brown, red, and white are a natural combination
One of the most heartwarming themes for Christmas decorating is the combination of Gingerbread and Gingham. The red and white of gingham ribbon with the warm spicy brown gingerbread cookies just say Have a warm and cozy Old Fashioned Christmas". The perfect foil for green pine and snowy white, this is the ultimate traditional Christmas theme. It harks back to times when many of the decorations for the Christmas holiday were handmade.
Details

Hits: 8452
Nature Comes Indoors For Gorgeous Christmas Decor
I love the natural Christmas Woodland look better than almost any other, and it mixes well with Scottish Tartan, Homespun, and most traditional looks as well. Woodland decor makes me think of ski lodges, and vacation cottages, which creates the perfect atmosphere for a cozy winter retreat filled with holiday warmth.
If you are an animal lover this is the ideal design theme, since it is filled with replicas of wild animals, along with birds, and nature's treasures of berry and twig.
The colors are soft and subdued but with plenty of the red and green of Christmas to keep it fun and lively. From traditions of decking the halls with evergreens to inclusion of a favorite Hummel figurine, this is also a versatile style of Christmas theme decor to use for a modern Scandinavian design, too.
Details

Hits: 7456