Precious Truth: They that wait upon the LORD shall renew their strength
Today's Reading from The Word
Habakkuk 2:1
1 I will stand at my watch
and station myself on the ramparts;
I will look to see what he will say to me,
and what answer I am to give to this complaint.
Thoughts:
What do we know of watchmen today? We have no less need of them, but with technology, our watchmen are usually something of a mechanical nature. As with many things, we have lost touch with the act of being watchful and taking responsibility for our own well being.
In time past there were watchtowers for different purposes: watches were kept through the night, and watchmen called out the state of the city during specific times. There were watchtowers in important crop areas, such as vineyards, where watchmen would guard the crop.
Bible Watch tower references.
The Alhambra of Spain, built by the Moors, has a watchtower.
Look at its architecture and purpose in the linked National Geographic video.
The tower's purpose was to gain a wide perspective of the state of the surrounding countryside. The watchman was to report as an "early warning system".
This explains the connection between the role of the watchman and that of the prophet. A prophet was to report as an early warning in spiritual matters. Not just looking into the future, which would be the act of a mere soothsayer, but giving perspective and insights from God's communication with a people.


Today, we consider the many prophetic words that guided Israel's people. They told of how history would unfold and gave the promises of the Messiah and God's salvation. These men and women waited on the "watchtowers" of prayer to hear and see the message of God. Since it was God's message and not their own, their calling was also initiated by God and not by their own will, or of the institution of lineage, like the priests.
Habakkuk was a prophet with a complaint. The circumstances of life had taken a bad turn in his nation. It was a period of very hard times. He was waiting to hear what God had to say of this and the direction to take for the way out of impossible and discouraging situations.
We may not be called to all be prophets, but we are all called to wait attentively to hear what God has to say to us as individuals. Within that guidance is the protection of being ready for what life has in store.
Does the up and down of life take you by surprise? Would you desire to be ready for all events, up to and including death? Wait upon God in prayer, and He will give you the guidance and the care you need for life.
Such waiting requires that we be awake in spirit. Awaken, and Christ will give you light.
Commentary on this scripture passage.
The ornament symbol: a tower. The symbol used here is the Japanese Kanji which stands for "watchtower".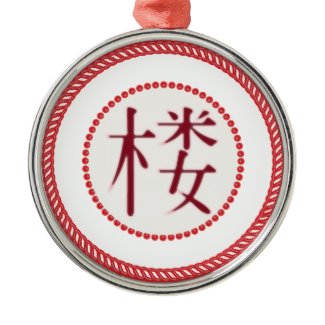 Jesse Tree Watchtower Ornament #1
by
ilonagarden
Get a
Christmas ornament
from Zazzle.
The carol for today: "Watchman, Tell Us of the Night"
Photo of watch tower in Israel by Bibleplaces.com