Precious Truth: God so loved the world, that He gave His Only Begotten Son.
Today's Reading from The Word
Luke 11:29-32
As the crowds increased, Jesus said, "This is a wicked generation. It asks for a sign, but none will be given it except the sign of Jonah. 30 For as Jonah was a sign to the Ninevites, so also will the Son of Man be to this generation. 31 The Queen of the South will rise at the judgment with the people of this generation and condemn them, for she came from the ends of the earth to listen to Solomon's wisdom; and now something greater than Solomon is here. 32 The men of Nineveh will stand up at the judgment with this generation and condemn it, for they repented at the preaching of Jonah; and now something greater than Jonah is here.
Thoughts:
Today's scripture passage is a sobering one. Perhaps that is a very good thing as we wheel giddily towards Christmas, although our modern society does not like such dampers. Much of what modern society tolerates about Christmas is the way Madison Avenue can whip up emotions to a high pitch, while we buy our way into a Bacchanalia of gift buying.


They won't tolerate greetings of "Merry Christmas" and nativity scenes of Christ's birth, but they will wink their eye at it as long as the money flows. How sad, and sad because of just this thing that Jesus spoke of. The true treasure, the true wisdom, the true value of Heaven is right in our midst and we don't take notice of it.
Jonah didn't wish to preach to his enemies, knowing God to be merciful and ready to do good for them at the first indication of repentance. And so it was. The people of Nineveh repented of their evil treatment of each other.
The one Christmas present that Jesus wishes for, in celebration of His birthday is the kind treatment, forgiveness, and compassionate acts for our fellow man. That's it. No lavish gifts, no big contributions to the church building fund. Kind acts.
Go ahead and give generously to charities, but don't forget the kind acts of every day life, and don't forget to value the great treasure that God has so lavishly spent upon you: His Only Begotten Son.
Words of thanks to God, some simple heartfelt praise, these are the appropriate wrappings for the gift we offer God today. Our good works out of hearts of faith.
The ornament symbol: a whale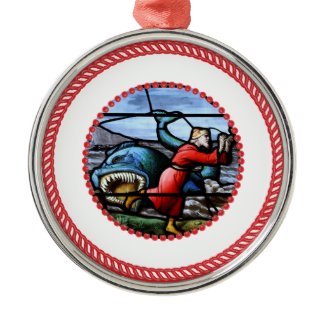 The carol for today: "Go tell It On The Mountain"