Precious Truth: Quietness and confidence shall be your strength. We can rest confident in the Lord's guidance.
Today's Reading from The Word
Matthew 1:19-25
19 Because Joseph her husband was faithful to the law, and yet did not want to expose her to public disgrace, he had in mind to divorce her quietly.
20 But after he had considered this, an angel of the Lord appeared to him in a dream and said, "Joseph son of David, do not be afraid to take Mary home as your wife, because what is conceived in her is from the Holy Spirit. 21 She will give birth to a son, and you are to give him the name Jesus, because he will save his people from their sins."
22 All this took place to fulfill what the Lord had said through the prophet: 23 "The virgin will conceive and give birth to a son, and they will call him Immanuel" (which means "God with us").
24 When Joseph woke up, he did what the angel of the Lord had commanded him and took Mary home as his wife. 25 But he did not consummate their marriage until she gave birth to a son. And he gave him the name Jesus.
Thoughts:
Joseph is an example of a quiet man of faith. His strength is evident, as he faces doubts, and provides protection for those around him. He is also an example of a man open to God's direction, unafraid of quickly taking steps to act on revelation that is contrary to his own perceptions.
Joseph is what I think of as an unsung hero, a dependable man who can be counted upon to do what is right and what is best for those around him. Without such heroes the lives of people could not find their potential destiny. We cannot imagine how Mary could have safely delivered and raised her son without faithful Joseph. He was not afraid to honor God more than himself, and to be a servant of God's plan.
I think that sums up Joseph: he was not afraid to be a servant.
Do you think of service and sacrifice as brave acts? The world doesn't give much notice of such men willingly, and it is up to us to value the qualities of character that God values, and regard them as the true V.I.P. (very important person).
What a fine role model Joseph turned out to be. Perhaps we should take notice and be more supportive of such people as we come across them in our lives. How many blessings do we overlook because they are given quietly and humbly? They are beneficial to us whether we take notice or not, but better for us if we give them the honor due, and recognize their light and worth.
Thank you God, for the Josephs of our world.
The ornament symbol: Carpenter tools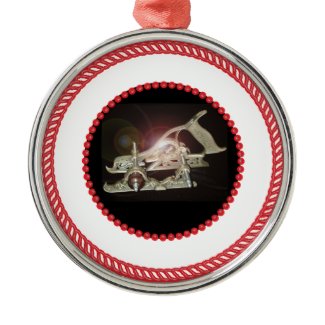 The carol for today: "Good Christian Men Rejoice"
Joseph stained glass picture By Sue Hasker