Precious Truth: God knows us from before our birth, and He has a plan for us. A plan for good.
Today's Reading from The Word
Isaiah 7:14
14 Therefore the Lord himself will give you a sign: The virgin will conceive and give birth to a son, and will call him Immanuel
Thoughts:
The symbol for Mary is the lily. The white lily stands for purity, the emblem of the virgin birth. Many do not realize the central importance of the virgin birth in the preparation of Christ for our salvation. Since Adams sin was passed down through Adam, the father's DNA, it was a necessary part of the Savior to have freedom from that taint of sinful man. In order for Christ to be the pure and spotless Lamb of God, he had to have this bloodline: human, yet divine. The new Adam was born, lived and died for us.
It helps us to also understand why we must be born again, after His image and likeness, not after Adam's.
That is our gospel, our good news.
And Mary was such an important part of God's plant to save the world. How carefully He must have chosen her.
In celebration let's bake some cookies. Here is a recipe you can use:
AUNTIE MARY'S COOKIES
1/2 c. softened butter
3 oz. softened cream cheese
1/2 c. sugar
1/2 c. packed brown sugar
1 egg
1 tsp. vanilla
2 c. flour
1/2 tsp. baking powder
1/4 tsp. salt
2/3 c. sweet condensed milk
4 oz. semi-sweet chocolate chips
1/2 c. chopped walnuts
Powdered sugar
Filling: In medium saucepan combine condensed milk and chocolate chips. Cook over medium heat until chocolate is melted. Remove from heat; stir in nuts. Cool to room temperature.
Dough: In large bowl with mixer at medium speed, cream butter, cream cheese and sugars until light and fluffy. Add egg and vanilla and beat until well mixed. Stir in flour, baking powder and salt. Divide dough into quarters and form a ball. Wrap in waxed paper; refrigerate 2 to 24 hours. Roll balls on floured surface to form 10 x 6 inch rectangle. Spread filling lengthwise down center of each. Fold in thirds, transfer to greased cookie sheets, seam down.
Bake approximately 20 minutes at 350 degrees or until light brown. Cool on racks. Sprinkle with powdered sugar and cut each roll in 12 slices. Makes 4 dozen. Store in airtight container, room temperature up to 3 weeks or freeze up to 3 months.
More cookie recipes…
The ornament symbol: Lily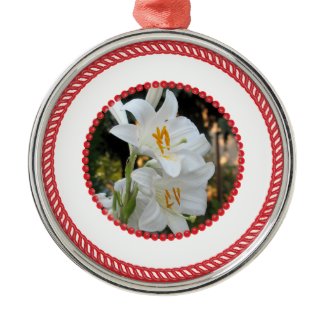 The carol for today: "Mary Did You Know?"