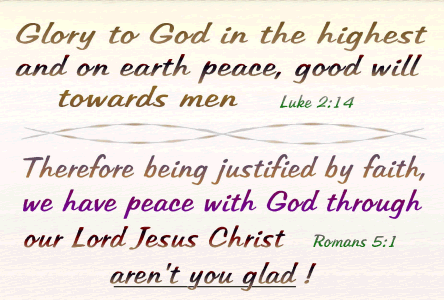 Is it just a Monday, for you? It was probably just such a day in the life of the shepherds on that hill near Bethlehem when Jesus was born.
Everything was going on as usual for the people who ran an Inn, who watched over flocks of sheep, who were ending their travel in another of a long round of Roman statutes and demands.
For them, nothing was different than the day before or any other day in their lives.
But for Heaven, it was the most momentous of times, and the angels broke through the skies to declare it in song to those Shepherds on the hill.
Finally, the peace promised throughout the history of Israel had come,
10 As the rain and the snow come down from heaven, and do not return to it without watering the earth and making it bud and flourish, so that it yields seed for the sower and bread for the eater,
11 so is my word that goes out from my mouth: It will not return to me empty, but will accomplish what I desire and achieve the purpose for which I sent it.
12 You will go out in joy and be led forth in peace; the mountains and hills will burst into song before you, and all the trees of the field will clap their hands.
13 Instead of the thornbush will grow the pine tree, and instead of briers the myrtle will grow. This will be for the LORD's renown, for an everlasting sign, which will not be destroyed."

The Kingdom of God began with the seed of Christ Jesus. It grows and multiplies, and follows a process that began hidden in ordinary circumstances, among ordinary looking people.
The glory belongs to God, who fulfills His word throughout the ages.
Isaiah 32:17
17 The fruit of righteousness will be peace; the effect of righteousness will be quietness and confidence forever.
Romans 2:10
But glory, honour, and peace, to every man that worketh good, to the Jew first, and also to the Gentile
Let God bring his peace into the midst of your life today. Allow His goodness to propel you into a response of giving good to others around you. Let the fruit of the spirit grow in your daily life, today and throughout this season.
In the bleak midwinter
BY CHRISTINA ROSSETTI
In the bleak midwinter, frosty wind made moan,
Earth stood hard as iron, water like a stone;
Snow had fallen, snow on snow, snow on snow,
In the bleak midwinter, long ago.
Our God, Heaven cannot hold Him, nor earth sustain;
Heaven and earth shall flee away when He comes to reign.
In the bleak midwinter a stable place sufficed
The Lord God Almighty, Jesus Christ.
Enough for Him, whom cherubim, worship night and day,
Breastful of milk, and a mangerful of hay;
Enough for Him, whom angels fall before,
The ox and ass and camel which adore.
Angels and archangels may have gathered there,
Cherubim and seraphim thronged the air;
But His mother only, in her maiden bliss,
Worshipped the beloved with a kiss.
What can I give Him, poor as I am?
If I were a shepherd, I would bring a lamb;
If I were a Wise Man, I would do my part;
Yet what I can I give Him: give my heart.